It's a run, It's not a run, It's a run, No wait It's not a run, I guess it is a run.
Still not sure what happened in the 7th, but I learned a lot about the Fourth Out Rule.
Dodgers scored on a
4th out in 2009
.....and I thought you only needed 3 outs in baseball, stupid me.
Kevin Correia was perfect through 4.2 until Jason Bay singled in the 5th.
Rich couldn't contain his excitement.
Correia kept humming until the 7th when Bay hit a sac fly apparently scoring Murphy; however Angel Pagan ran past 2nd, but failed to retouch the base on his way back to first. The Pirates appealed to 2nd and it looked like the run wouldn't count. Terry Collins argued, the umpires conferenced and the run was put back on the board.
1-0 Mets.
That was how the "is it a run?/no wait it's not a run" debate was born.
Many rule books were cracked open.......and I hate reading.
It's a weird play because it isn't an appeal at first for going early, its an appeal at second for missing the base. My head hurts thinking about it.
More drama in the bottom of the 7th.
Lyle Overbay hit a ball to deep centerfield, Angel Pagan made the catch against the CF wall.
Clint Hurdle did not agree, thinking the ball hit the wall before Pagan caught it.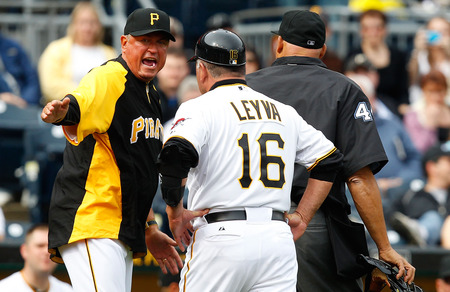 Ejected
From some of the replays it did look like Pagan caught the ball.
Crazy couple of at bats back to back.
Floodgates opened for the Mets in the 8th, when 6 straight hits with 2 outs over a 3 pitcher (Correia, Resop, Moskos) span plated 4 runs. 5-0 Mets.
Couple of solo HRs by Reyes and Hairston off Cutch 2 by the Mets in the 9th extended the lead to 7-0.
Ballgame
Kevin Correia falls to 1-4 at PNC Park.
K-Core can't wait for a nice long road trip.
Correia's final line: 7.2 IP, 4 R, 4 ER, 4 Ks, 0 BB........he pitched better than those numbers suggest and deserved better than the L.
Frustrating loss considering how well Correia pitched.
In the end you deserve to lose when you put up this many runs on Chris Capuano over 7 IP.
Jose Reyes had another multi-hit game, his 33rd of the year in 62 games played.
Andrew McCutchen continued streaking with a pair of hits
Cutch's hit streak is now at 11 games and his average is up to .289.
Pirates look to even the series with the Mets tomorrow, Pelfrey (3-4, 5.35) vs. Maholm (2-7, 3.39) at 7:05. A win would close the home stand at 6-4.
Check out Rich's preview
here
.